Many in the industry equate the term "iGaming" with the terms "platform" or "technology." We view iGaming as a collective effort of artists, marketers, and technologists working in concert to deliver amazing online experiences to players via our operator partners. This article is the first in the GAN PROFILES – a series of closer looks at a few of our team members who are driving innovative changes to our offerings and in turn creating exciting new digital worlds for our casino operator partners' end-users. Our own Dana Takrudtong and James Smurfit sat down with three of our London-based team members on their roles, histories, and visions ahead at GAN.
PROFILE: Gia Varvarigou; a GAN Senior Graphic Designer from Greece and someone who has been heavily involved in several major GAN projects over the last year. Gia is in her fourth year with the company.

James (J): Hi Gia. So as a general starting point I thought I'd ask, what inspires your design philosophy?
Gia (G): That's a really nice question. I think inspiration is all around us. Inspiration is not something that can be forced or comes out of thin air. As a designer, throughout the years you gain experience as you observe and can learn from anything; from a poster on the tube to something you read. I have a really nice morning ritual; I grab my coffee and read my newsfeed full of stuff from the design community and I go through the feeds to see everything from other designers and I say "Oh that's the perfect color I want this color, oh that typography is amazing" and so I take from as many different places as possible. Overall it's about research, observation and archiving. Most of all it can't be forced- it comes and goes. So I think inspiration comes with experience, observation and research and by having a nice habit of being consistent with these practices.
Dana (D): So you just mentioned your broad design philosophy, the process of waking up and looking at your feed and different portals throughout the web that bring you design inspirations from everywhere. Narrowing that focus down a bit, how do you approach game design? Do you download lots of apps in the app store and go through playing games?
G: I do; usually once a week or every two weeks. Basically I go to the app store and see all the new apps that have arrived. I usually look at the screenshots to see if it's a nice game and download it and play it for a little bit as well.
J: Do you look at games just for the industry?
G: For my knowledge development in the industry and for inspiration. And like I said, that inspiration can really come from everywhere so it doesn't matter if it's a game, you just want to see what different things look like, so every couple of weeks I go through all the new apps on the app store to stay up to date and look for inspiration. Also designers and the designer community do lots of games now so you see beautiful games coming up all the time. Also on Pinterest, which we use, there are massive boards with games and screenshots of games and everything, which is also very useful.
J: Two of the major projects you've worked on are the creation of our recently launched game Solitaire Quest and the redesign of the GAN logo. How much of your history- personal or work- is in character design vs logo design?
G: I was much more of a beginner in character design- when I was studying we did a lot of drawing, sketching and observational drawing but nothing like character or game design. On the other hand logo design was the first thing we learnt; skills like typography and composition. Throughout my career and when I was a freelancer back in Greece I did a lot of logo work and in a sense it's my first love. Logo work is challenging though; as you're working on the main image of the company and it's what people first see, all aspects like the colors and shapes have to be perfect as it's representing the company.
However, to go back to character design, I really wanted to get more involved in this field. Solitaire Quest was a collaboration of various different people internally and I was the designer, though we also had an outside illustrator for some basic design and drawing. I handled project coordination along with UI design, sketching and basic ideas behind everything.
When we started the design process, we had a lot of brainstorming sessions and we started to talk about the kind of game we wanted, what the user would want to see and what style we were going to use- and this was an ever evolving process. If I showed you the first designs, they're completely different from what're we're doing right now. In the beginning it was going to be more of a cartoon-y style until we zeroed in on the current steampunk theme, focusing on the fact it's a Quest and trying to get it a little like Indiana Jones or something along those lines.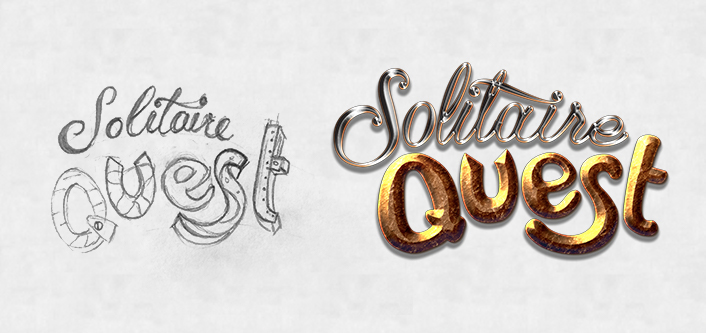 J: So was that you coming up with that steampunk theme or was it just part of the collaborative process?
G: I think it was more collaborative... it stemmed from us thinking about Indiana Jones and that theme of adventures and expeditions. For the character we settled on a friendly female character as more women play than men- not a sexy character but one that's going to go on that journey with you. And with that in mind we settled on a steampunk style a little like Indiana Jones. And so now we've got the Countess traveling around in her airship and joining you on your story.
However I also designed the last character, Lady Luck, as part of me getting involved and learning new skills with the Qualcomm tablet; I'm still a bit of a beginner but it's nice to get to a level where I can say that I can design a nice character now.
D: Also Greece is in the game! Was that inspired by your roots because you could have started that journey anywhere, I mean you got to make that call right?
G: Well we were including big civilizations and ancient civilizations so we had to put in Greece! We wanted to present ancient cultures and everything so in Greece we would put the Parthenon, here in Britain we put Stonehenge. We were trying to put in these ancient monuments along into the game landscape.
J: So you just touched on the design process of Solitaire Quest, but from a more internal perspective, as you said there were a bunch of different people working on it but you were one of the major leads on something which was somewhat different to what we usually do. How did it feel kind of being able to take the lead and being a part of that core group on something really important like this?
G: I was really thrilled when I got the opportunity. I'd been working for around two years on mobile gaming designing blackjack, roulette and slots. And that's really interesting but after a while you get ready for something new, a new challenge. I was thrilled and scared at the beginning because I hadn't honed those illustrator skills yet but I got to evolve those skills. And really the whole project was an evolving process, and it was really interesting to see all those design changes and talking about all the different parts and how to tie it all together.
D: So a question on that, when you put all the effort into building something out and it's so personal for you and you're getting your hands into learning something for the first time, how do you deal with taking critical feedback on a project like that?
G: I had an amazing team who gave me the opportunity to work freely, who told me to open up my creativity and impress them. Sometimes it works well and sometimes it doesn't, but criticism is essential as a designer, especially designing for someone else and not yourself. You have to look for a balance of nice design and a user friendly interface while being ready to ask opinions and accept criticism. I'd sit down and brainstorm with the team, they'd give me basic requirements and then give me freedom to impress them, that's what I really loved about the team and it's important as an artist.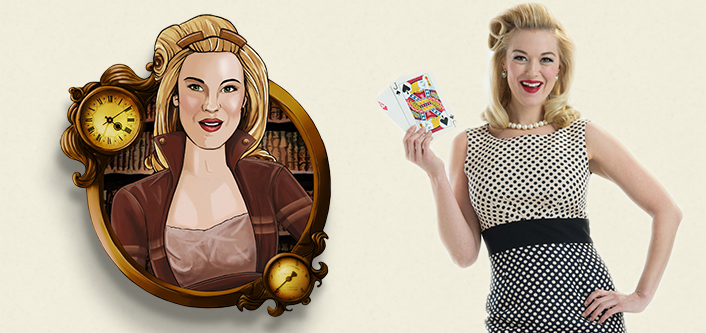 J: You said that your background is in brand and that you learnt character and game design a bit more on the fly. Was that purely at GAN you learnt to do that or before it as well, or was it like you came to GAN and it was like OK time to learn?
G: More so at GAN- coming and being given the opportunity to design more with Solitaire Quest. It's always a learning process and a process of picking up new skills but I've already designed a new character and have moved onto designing new levels and backgrounds, so I'm excited with my progress.
J: So moving onto the logo change, how was that process considering the responsibility of changing the brand for the whole company and what inspired you to change it in the way you did?
G: So for the GAN logo change, Dermot (GAN CEO) came and said "OK, let's do the rebranding." We decided not to stray too far from the old logo; we used the same colors but wanted to make it more dynamic and bring a more refreshing look as a newly rebranded GAN. We used a small palette of colors as we didn't want to spoil it with too many elements around it. We made the GAN acronym quite close but gave it some space and dynamics with the lines- we think it's visually appealing and memorable, much more clean and dynamic.
J: The overall logo project has been going on for some time, do you think it's close to being finished as a project?
G: I think the logo is now finalized so now we're working more with the brand lines, we want to have a single presentation template along with word documents. I have also designed new things like business cards and new icons internally, and right now we're just finishing all that off and making sure they're all in use and standardized across the company. I'll be happy when I can say, "Finally did it!"
J: As a finishing point, is there anything else you want to share with us with your design thinking, I know we talked about your design philosophy in the beginning. Or just in general if you think we've forgotten anything important or if there's anything else you want to mention?
G: The most important thing is that design thinking is a constant learning process, and a constant evolution. No matter how much I do I'm a student all of the time, and always learning new skills and looking for new inspiration and ideas.
D: Thank you very much Gia. We're so grateful to have had you on the team the last four years and look forward to many amazing creative projects from you ahead!